Books by Nancy Lee and Philip Kotler
Since 2002, Nancy has coauthored 13 books with Philip Kotler, distinguished professor of International Marketing at Northwestern's Kellogg School of Management who first introduced the term "social marketing" in a pioneering article in the Journal of Marketing in early 1970s.
Success in Social Marketing: 100 Case Studies From Around the Globe

 

Routledge (July 2022)

 

The following is a statement from Jeff French in the Preface of the book.

Professor Jeff French, President

International Social Marketing Association

"Kotler and Lee have over many years developed the concept of social marketing as a practical set of principles that can be applied to inform and augment programmes that seek to influence positive social behaviour.

 

This book is an invaluable guide to both those familiar with social marketing and those new to the field.

The book provides an invaluable overview of real examples of the contribution that social marketing principles can make across a broad range of social challenges. The book helpfully uses a consistent strategic presentation framework based on social marketing principles to tell the story of the cases set out in the book. This consistent and helpful framework helps to emphasize the power of social marketing to help shape, develop, deliver, and evaluate social interest programmes. This book is a fantastic addition to the social marketing literature and is an invaluable guide to how it can enhance both the effectiveness and efficiency of such programmes.

This is a book that every scholar and practitioner should have in their library."

 

TABLE OF CONTENTS

 

Introduction: Framework Used for Each Case
Improving Public Health: 30 Success Stories
Preventing Injuries: 15 Success Stories
Protecting the Environment: 30 Success Stories
Engaging Communities: 15 Success Stories
Enhancing Financial Well Being: 5 Success Stories
Supporting Educational Milestones: 5 Success Stories
Epilogue

 

Each of the 100 cases is about 2 pages in length, with references for more information.

 

ORDERING A COPY

The Publisher, Routledge, has some of the lowest prices: Paperback is USD $35.96 and eBook is USD $35.96, and the link to order is Success in Social Marketing: 100 Case Studies From Around the Globe - (routledge.com)
Social Marketing: Changing Behaviors for Social Good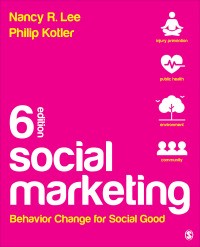 SAGE Publications Inc; Sixth Edition (March 2020)
This is an updated version of Social Marketing: Behavior Change for Good, 5th Edition (2015).
The following is a statement in the Foreword of the book from Jay Kassirer, General Manager, Tools of Change.
"For almost two decades, Social Marketing: Behavior Change for Social Good has remained the leading textbook on social marketing and a trusted guide for instructors, students, and practitioners. It stays state-of-the-art and relevant by continually adding in each edition new case studies on current topics and integrating emerging tested-and-proven approaches to program research implementation, and evaluation. This sixth edition features 26 new case studies, six updated ones, and a dozen recent examples of social marketing addressing our "most wicked" social problems including opioid overdose, climate change, youth suicide, obesity, gun responsibility, traffic congestion, preventable injuries and deaths, youth substance abuse, immunizations, family planning Zika virus, wildfires landfills, property crime, and homelessness."
Social Marketing: Changing Behaviors for Good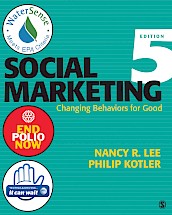 SAGE Publications Inc; Fifth Edition (March 2015)
This is an updated version of Social Marketing: Influencing Behaviors for Good, 4th Edition (2011), a best seller for Sage.
Social Marketing: Changing Behaviors for Good is the definitive textbook for the planning and implementation of programs designed to influence social change. No other text is as comprehensive and foundational when it comes to taking key marketing principles and applying them to campaigns and efforts to influence action. Nancy R. Lee (a preeminent lecturer, consultant, and author in social marketing) and Philip Kotler (an influential individual in the field who coined the term "social marketing" in 1971 with Gerald Zaltman) demonstrate how traditional marketing principles and techniques are successfully applied to campaigns and efforts to improve health, decrease injuries, protect the environment, build communities, and enhance financial well-being. The Fifth Edition contains more than 26 new cases highlighting the 10 step planning model, and a new chapter describing major theories, models and frameworks that inform social marketing strategies and inspire social marketers.
"The 5th edition of this excellent social marketing textbook is out. Here is part of what I wrote as the Preface:
It is especially rewarding for its readers by increasing the depth and breadth of models and frameworks it offers and setting them aside in a separate chapter. This very much reflects the historical development of the field of social marketing – increasing the science base of its planning, execution, and evaluation of real world social challenges.
. . . it is replete with new approaches to research and implementation including crowdsourcing, participatory action research and Gerald Zaltman's Metaphor Solicitation Technique. It makes us of current thinking on habit formation and behavioral economics (e.g. nudging). It offers practical – and especially needed – advice on midcourse corrections and essential evaluations that can insure that applications have the intended effect – and that unexpected outcomes are recognized and responded to.
It would be a great addition to your library."
Alan Andreasen
Professor of Marketing, Georgetown University
Social Marketing: Influencing Behaviors for Good

(SAGE Publications,   October 2011)
Available at Amazon.com
This is an updated version of Social Marketing: Improving the Quality Of Life 3rd Edition (2008), a best seller for Sage Publications.
This is the definitive textbook for the planning and implementation of programs designedto bring about social change. The authors take key marketing principles and show readers how to apply them to campaigns and efforts to improve health, decrease injuries, protect the environment, build communities, and enhance financial well-being. Social marketing has grown in its sophistication and application to a wider array of social problems, and the Fourth Edition captures the momentum and excitement of this burgeoning field.
4th Edition
What's New?
All 26 chapter Case Highlights are new and represent more international success stories, as well as more environmental and financial behavior applications.
Increasing Use of Mosquito Nets in Africa
Increasing Scooping the Poop in Austin, Texas
Reducing Drink Driving in Australia
Increasing Family Planning in Pakistan
Improving Financial Literacy Using Soap Operas in the U.S.
Decreasing Tobacco Use in the U.S.
Increasing HIV/AIDS Testing in the U.S.
Increasing Purchasing of Sustainable Seafood Worldwide
Decreasing Injuries and Death from Tractor Rollovers in the Northeast U.S.
Increasing Physical Activity in the UK
Decreasing Drinking and Driving Among Youth in the U.S.
Increasing Use of Condoms in New York City
Reducing Aquatic Hitchhikers in the U.S.
Decreasing Tuberculosis in Peru
Increasing Use of Water Treatment Devises in India
Increasing Water Availability in Jordan
Decreasing Use of Plastic Bags in Ireland
Increasing Recycling in Capetown, South Africa
Supporting Bicycling in the Netherlands and California
Increasing Use of Energy Saving Lightbulbs in the U.S.
Decreasing Junk Mail in Australia
Improving Health Behaviors With Text Messaging in the U.S.
Increasing Utilization of Financial Services in Africa
Increasing Savings in the Philippines
Increasing Cancer Screening in Japan
Increasing Healthy Heart Behaviors in the U.S.
Decreasing Childhood Obesity in the U.S.
 In addition there are updated discussions regarding :
Social Media applications
Behavioral Economics, Ecological Model, Science of Habit Framework
Power of Pledges, Prompts and Diffusion for Sustainability
Calculating Return on Investment
Importance of Upstream and Midstream Audiences
Power of Story Telling
Revised Product Platform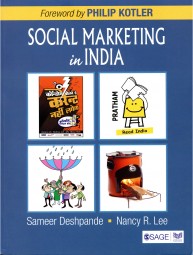 This book, an adaptation of Nancy R. Lee and Philip Kotler's highly successful book Social Marketing: Influencing Behaviors for Good, 4th Edition, is structured around the ten-step marketing planning process that trains and encourages those in positions responsible for influencing public behaviors to undertake a systematic and comprehensive approach to behavior change rather than jumping to the stage of producing just ads or distributing condoms.  The book will convince readers when employing social marketing, it takes more than this.  The book illustrates the planning process, importance of research, and related concepts through numerous examples that are of a high quality and diverse contexts.  It is one of the first books to bring together excellent social marketing thoughts related to the Indian situation at one place.  Through these discussions, the book proposes new ways to address old problems related to public health, injury prevention, environment protection, community harmony, and financial well-being.  In a nutshell, if you want to learn how to fix India's problems, this is the book for you.
GOOD WORKS!  Marketing and Corporate Initiatives that Build a Better World . . . and the Bottom Line
  (Wiley, 2012)    
How to find your cause, create winning campaigns-and keep the cynics at bay: GOOD WORKS! Shows how businesses can do well by doing good, with contemporary examples from across America and around the world. Companies featured include: General Electric, IBM, Nike, Seventh Generation, Starbucks, Ben & Jerry's, Whole Foods Market, Johnson & Johnson, Campbell Soup Company, Bristol-Myers Squibb, Mattel, McDonald's, AT&T Wireless, Target, Chipotle Mexican Grill, DuPont, First Response, Macy's, Farmers Insurance, Food Network, Pearson, Marks and Spencer, General Mills, LensCrafters, TOMS Shoes, Sainsbury's, Avon, Pedigree, Procter & Gamble, Subaru, Telus, Kraft Foods, SUBWAY, Levi's, Best Buy, Energizer, Allstate, Clorox, Miron Construction, V/Line, Lowe's, Anglian Water, PepsiCo, The Boston Beer Company, Western Union, Pfizer, ConAgra Foods, Sellen Construction, FedEx, Patagonia, Coca-Cola, Microsoft.
Social Marketing to Protect the Environment: What Works (Sage Publications , 2011) 
Behavior change is central to the pursuit of sustainability. This book details how to use community-based social marketing to motivate environmental protection behaviors as diverse as water and energy efficiency, alternative transportation, and watershed protection. With case studies of innovative programs from around the world, including the
United States, Canada Australia, Spain, and Jordan, the authors present a clear process for motivating social change for both residential and commercial audiences. The case studies plainly illustrate realistic conservation applications for both work and home and show how community-based social marketing can be harnessed to foster more sustainable communities.
Key Features
Organized into two main parts, the residential sector and the commercial sector, the book provides solutions to influencing behavior change in each.
Twenty-Four case studies from around the world illustrate successful use of social marketing principles with advice on how to replicate these campaigns in similar situations.
The authors review what has worked and what could have been improved and provide practitioners with a concluding chapter on recommendations for best practices in community-based social marketing.

Up and Out of Poverty: The Social Marketing Solution (Wharton School Publishing, 2009)
In Up and Out of Poverty, legendary marketing expert Philip Kotler and social marketing innovator Nancy Lee consider poverty from a powerful new viewpoint: that of the marketer. Kotler and Lee assess each proposed path to poverty reduction, from traditional foreign aid to improved education and job training, economic development to microfinance. They offer crucial new insights into why so many anti-poverty programs fail--and propose a new paradigm that can achieve far better results. You'll learn how to apply advanced marketing strategies and techniques to systematically put in place the conditions poor people need to escape poverty. Through more than 25 real case studies and examples, you'll learn how these marketing techniques can help promote health, education, community building, personal motivation, and more. Major sections cover:
Poverty: understanding the problem and assessing current solutions.
What's working, what hasn't worked, and why it hasn't worked.
How marketing principles can drive poverty solutions that really work.
Applying segmentation, defining target markets and desired behavior changes, and understanding barriers and motivation.
Developing a strategic marketing plan for reducing poverty.
Powerful lessons from the successes of tuberculosis prevention in Peru.
Ensuring an integrated approach.
Bringing together the public, nonprofit, and private sector-and local people "on the ground".
For 30 years, the authors' social marketing techniques have been successfully applied to healthcare, environmental protection, family planning, and many other social challenges. Now, Kotler and Lee apply them to the largest challenge of all: global poverty.
Social Marketing: Influencing Behaviors for Good (SAGE, 2008)
This is an updated version of Social Marketing: Improving the Quality Of Life 2nd Edition (2002), a best seller for Sage Publications.
Alan Andreasen, Georgetown University professor, writes in the foreword to this book: "What distinguishes this book from others in the field is its excellent combination of the conceptual and practical. Its core includes careful definitions and frameworks. Its structure follows the classical approach to devising and launching effective social marketing campaigns. Perhaps its greatest value lies in the rich trove of examples, checklists, and warnings that provide both students and practitioners the kind of hands-on guidance they need to do social marketing well. I urge both neophytes and experienced veterans to use this volume as a guide to creating powerful social marketing campaigns."
Case contributors include world leaders in social marketing, sharing the background, strategies and results of some of the most well known social marketing campaigns in the world.
Carol Bryant University of South Florida, "VERB™ Summer Scorecard"
Carol Cone Cone LLC, "Go Red for Women"
Robert Denniston Office of National Drug Control Policy, "Above the Influence: A National Youth Anti-Drug Media Campaign"
Rob Donovan Curtin University, Western Australia, "Freedom from Fear: Targeting Male Perpetrators of Intimate Partner Violence"
Sue Eastgard Youth Suicide Prevention Program, "Youth Suicide Prevention"
Jeff French National Social Marketing Centre, "Marketing Social Marketing in England"
Gerard Hastings Institute for Social Marketing, University of Stirling, UK, "A Fat Chance Pays Off"
Steven Honeyman Population Services International, "Social Franchising of Family Planning Service Delivery: A Rising Sun in Nepal."
Francois Lagarde Social Marketing Consultant, "E-Health Network in Canton Switzerland"
Jim Lindenberger University of South Florida, "USDA Food Stamp Media Campaign"
Lynne D. Lotenberg Social Marketing Consultant, "Using Storytelling to Deliver Health Messages in Rwanda"
Doug McKenzie-Mohr Environmental Psychologist, "Turn It Off: Canada's Anti-Idling Campaign"
Patricia McLaughlin American Legacy Foundation, "the truth® campaign"
Jim Mintz Centre of Excellence for Public Sector Marketing, "Is Your Family Prepared?", Public Safety Canada
Gregory R. Niblett AED, "Jordan Water Efficiency Program"
Bill Novelli AARP, "Don't Vote: Until You Know Where the Candidate Stands"
Michael Rothschild University of Wisconsin, "Road Crew: Reducing Alcohol Impaired Driving"
Beverly Schwartz Ashoka, "USDA Food Stamp Media Campaign"
Bill Smith AED, "Save the crabs. Then eat 'em."
Shelly Spoeth Centers for Disease Control and Prevention, "African-American Women HIV Testing Campaign"
K. Vijaya Health Promotion Board, Singapore, "Recognition & Rewards Program for Healthier Eating Establishments"
Pete Webb Pacific Consulting Group, "Improving Service Delivery at the IRS."

Corporate Social Responsibility: Doing the Most Good for Your Company and Your Cause (Wiley, 2005)
This book provides best practices and cutting-edge ideas on the best ways and means for corporations to maximize corporate contributions to social issues and to know what good they did. Business leaders will learn how to align their business goals with cultural and social ones; choose social issues and charities to support; gain employee support; implement successful initiatives; and evaluate their efforts.
Sandra Taylor, Senior Vice President, Corporate Social Responsibility Starbucks Coffee Company writes: "This comprehensive perspective on corporate social responsibility answers tough questions about the value of social initiatives for companies, investors, employees and customers"
Maureen Conway, Vice President, Emerging Marketing Solutions, Hewlett-Packard writes: "Brilliant . . . an important compilation of great work done by great companies. Corporate Social Responsibility examines the most innovative business practices and leaders of our time who are discovering the pathways that converge business and social agendas for the benefit of all stakeholders. Well done!"

Marketing in the Public Sector: A Roadmap for Improved Performance (Wharton Publishing, 2006)
This is a groundbreaking book written exclusively for governmental agencies, offering dozens of marketing success stories from agencies of all types – from around the world - demonstrating that marketing is far more than communications and has at its core a citizen-oriented mindset. It presents a step-by-step model for developing a marketing plan and demonstrates how the tools in the marketing toolbox can be used to engender citizen support for your agency, increase utilization of your products and services, influence positive public behaviors – even increase revenues and decrease operating costs.
Governor Christine Gregorie, Washington State wrote: "This book is filled with insights for people who want to communicate effectively about government programs, but it should also be on the bookshelf of any government manager who needs to think creatively about how to improve customer service. Every page contains information and ideas that public-sector leaders can, and should, put in their management tool kits."
Dave Ross, CBS News Commentator wrote: "Kotler and Lee are teaching governments to motivate by invitation rather than intimidations. Instead of complaint and reaction, they work to create a culture of contagious cooperation that can replace rulemaking with social consensus. This is a practical manual for un-clogging hearing rooms, cooling tempers, and putting government back on the side of the people who pay for it."

Social Marketing for Public Health: Global Trends and Success Stories
Hong Cheng, PhD, Associate Professor of Advertising, E. W. Scripps School of Journalism Ohio University, Philip Kotler, PhD, Nancy Lee
ISBN-13: 9780763757977
ISBN-10: 0763757977

Paperback
350 Pages
© 2011
Social Marketing for Public Health: Global Trends and Success Stories explores how traditional marketing principles and techniques are being used to increase the effectiveness of public health programs—around the world. While addressing the global issues and trends in social marketing, the book highlights successful health behavior change campaigns launched by governments, by a combination of governments, NGOs, and businesses, or by citizens themselves in 15 countries of five continents.
Each chapter examines a unique, current success story, ranging from anti-smoking campaigns to HIV-AIDS prevention; from promotions for health lifestyle to battles against obesity; and from public educational campaigns on hepatitis B to contraceptive social marketing. Contributing authors include leading social marketing scholars, seasoned social marketing practitioners, and longtime public health professionals.

Social Marketing: Improving the Quality of Life 2nd edition (SAGE, 2002)
This initial publication is now out of print.